I have had a few people ask me how I do my name the way I do on tags with the glitter so I decided to make a tut to show everyone how! :)
Type the text you want in PSP and pick the color you would like!
I am going to go with Navy!
Convert the Vector to a raster layer.
Rename to BG for Background
Select the Selection tool.
Outline the name:
click inside the ants and it should look like this: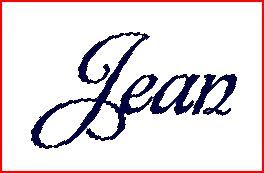 Promote the floating selection into a raster layer!
Rename to the name or word you used!
Click Selections/Modify/Expand "located on the File Bar"
Set the number to 3 and click ok!
Click Adjust/Add/Remove Noise/Add Noise "located on the File Bar"
Here are the settings I am using, you can play around with it and choose what you think is best for you!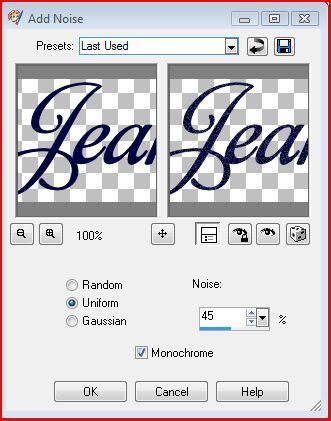 Click ok!
Highlight BG
Now pick a glitter or color you would like to go around the name or text. If you pick a solid color, then you can noise it to make it look glittery!
I am going to use a pink glitter!
Select your fill bucket
and fill inside the ants
hold ctrl and hit D
ants should have disappeared
Now I am going to help the glitter text stand out more by putting a drop shadow behind it!
Effects/ 3D Effects/ Drop Shadow "located on your file bar"
I am using these settings:
You may use the settings that best suits you!
That's it!
My fav. BG color to use is #c0c0ff and noise it with Uniform at 95!
Thank you for trying my tut and I hope it was enjoyable and easy to you! :)
Hugs,
~Jean!~